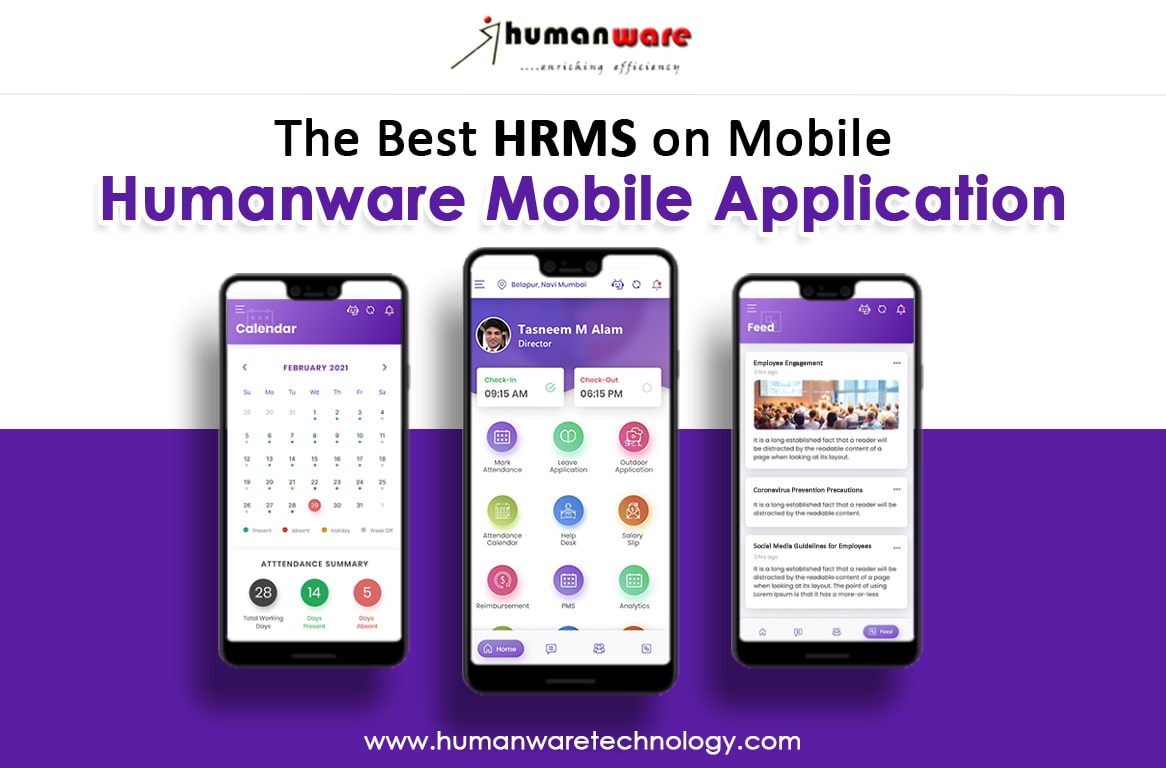 The Best HRMS on Mobile | HUMANWARE Mobile Application
The audience for mobile activity is larger and growing even more, with the use of devices such as smartphones, gear watches and tablets.for shopping or entertainment Communicating the technology we access in our daily lives is rapidly delivering a flawless experience on mobile devices. Unfortunately enterprise technology has not scaled fast enough to match this ease so why not make life simple even at work.The humanware mobile application built for mobile friendly use that is appealing and intuitive it empowers users to take their work on-the-go
Humanware mobile application is a powerful and agile mobile app that is designed to empower corporations. With better efficiency and convenience, employees can now stay connected to the organization at any time from any location.it emprivers employees with Chatbot,Employee Centric,Essay entrigation, 24x7 connectivity.
Humanware HRMS mobile applications bring HR together closer to the employees with beneficial features as.
Time and attendance
Growth of the business in creating efficient solutions that allow HR and other internal teams to run efficiently is also equally important as Sales. Businesses that are too focused on external growth often ignore attendance and time. Newer technologies have allowed for more advanced solutions than the traditional time clock methods of attendance tracking.Humanware HRMS software is a cloud-based software which means it is remotely backed up and easily accessible from remote location. with geofencing an employee can mark his attendance by sharing his location. Applying for outdoor applications and leaves can be one in just a few clicks with ease.
Digital Interview
Hiring is a time-consuming task, it requires time and attention for selecting an appropriate candidate. Many times candidates are not able to attend the interview on time because of a distant location this also affects the productivity of an interviewer as the scheduled interview has been behind the schedule many times this results in a negative impact. Addressing this issue, humanware mobile applications are integrated with the feature of Digital interview. The hiring department can now interview with just their smartphones.
Approval in Clicks
Many tasks require approval from the HR department like leave application, Reimbursement, Outdoor approval and a lot of more. Employees waiting for their approval may lead to delay of work and also affect productivity. With humanware mobile applications. HR can instantly approve the request as in the way to office.before he enters the office all approvals have been made in just few clicks and provide his feedback.
Performance Management
Tracking the growth of employees is not an essay task. It requires continuous monitoring and updates. The human resource department can not maintain or be up-to-date with eac individual's growth and development. With humanware HRMS Software you can manage employee's performance reviews easelly. The graphical reports come in handy when needed. Employees and HR can self define their tasks and view the graphical reports,from their smartphones also. This allows the HR to view the performance of employees while traveling.
Spotlight
Most of the time smartphones I use for surfing through social media platforms for updates. Treditionaly circulares were passed in the organization for any updates with new technology paper flyers changed to emails and but the core remain the same. Spotlight is a social platform designed for your employees to be engaged in the organization.where every employee can make a better communication with each other
Chatbot
Chatbot is a form of Artificial Intelligence used in messaging apps which is intridated to communicate with humans. Similar Chatbot is developed in Humanware HRMS mobile application.You can set up a chatbot to ask for your queries and it will provide you with the solution.as the work is done by Artificial intelligence (AI) there is no human error and 27 x7 availability. It assists the HR in his work as it is also voice controlled and it can perform tasks more efficiently and quickly
ESS
Providing an employee self-service empowers and engages the employee in the organizational activities. They can apply for their leaves and keep track of their attendance. This reduces the work of the HR department and the employee too. An Employee self-service(ESS) benefit by providing transparency of information the employee can view his information like personal details and official details if any changes are required he can then request the HR for following.thus employee information is maintained correctol. Every activity is performed without paper reducing the environmental footprint and reducing stationary cost.
Humanware HRMS Software is what all you need for your organization. it is a complete end-to-end suite of software for your HR department.with our mobile application it is now accessible for at to go time. For a demo book now or mail use a Sales@hwtpl.com