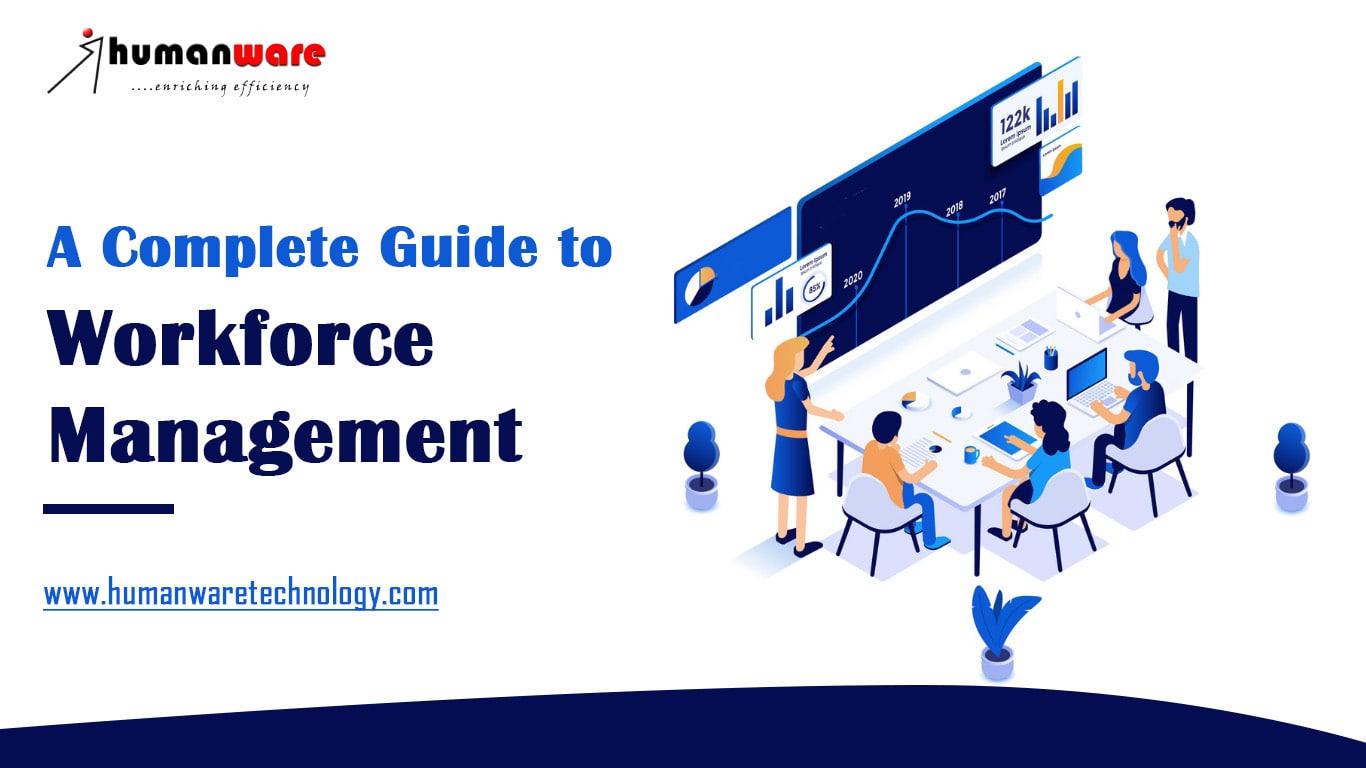 A Complete Guide to Workforce Management
What is workforce management ?
Workforce Management is a key aspect of the HR function. It itself explains how the workforce can be the best HR management. There are many elements in an organization that go beyond products and services. The central element that drives any organization is its workforce, the human resources is effectively the larger aspect of workforce management thus it is critical to manage.workforce management is an integral part of any organization involving a larger workforce. However, everything was done manually until recently. Automating processes has made tasks simpler and much more manageable. Management encompasses broader aspects of the organization, although we are only dealing with human resources.
Workforce management is about planning, monitoring, evaluating, managing time and resources. All this to ensure that processes are operating on time and within benchmarks. Management is tailored to individual business processes and also monitored for efficiency mapping and schedule guidance.
What is the Workforce Management Process ?
A broad workforce management system encompasses a range of activities within the broader framework of the human resource management system(HRMS), such as:
1. Time and attendance
Tracking time and attendance using HR software and HR processes reveals service models that help companies to better forecast changes in demand and manage planned absences/ or leave of staff. By analyzing employee data, companies can identify potential gaps in coverage, improve payroll accuracy, and resolve chronic absence and delay issues. Personal or other matters will force employees to take time off. Leave requests, acceptances, rejections, and documentation can be entered into HR software for future payroll and recording purposes. Leave records also help HR/managers determine time off requests for approval.
2. Staff scheduling
Staff scheduling is a primary aspect of workforce management. it allows companies to automate staffing based on all business variables, such as vacations, availability, workload, and absences. Planning and monitoring are different parameters of the board's operation. Staff scheduling efficiency benchmarks all this, and more can be monitored. Without a solid HR system, this was time-consuming, inefficient, and often left companies understaffed in times of critical need.
3. Forecasting and budgeting
Forecasting is knowing how much and what type of staff resources are needed for a given project during a particular time of year, such as increased seasonal demand or vacations. Forecasting gives your HR team about the new requirement or staff shuffling. The forecasting helps to bridge the gap between the existing and the expected. A calculated forecast allows for better budgeting and better allocation of resources.
Budget is a key aspect of any business. However, when it comes to organizations, different departments have their own budgets. Budgeting is the main activity that guarantees progress; everything is in place. In the absence of a structured budget, many operations may overspend or resources may be misallocated. The budget constraint costs and also formalized processes. Workforce management encompasses budgeting as a major activity.
4. Workforce training and Performance Management
Workforce training is another aspect under Human resource management that gives a criterion to the employees who can be scheduled for training. Performance management and appraisals as tools can chip in data for employee training. The performance management framework is broad and differs depending on the organization. However, each company has a defined performance benchmark and this is used to value employees based on current performance. Performance management helps organizations analyze individual performance and therefore determine patterns of productivity even if they are rewarded. Workforce management is involved in many measures. managing the effects of HR software helps to obtain the relevant and necessary information, which is to act on daily performance, employee productivity, transaction volume, or just an hourly calendar or daily activities.
5. Payroll
Payroll is one of the vast and important functions under workforce management. Payroll is the total of all compensation that a company has to pay to its employees for a certain period of time or on a certain date. It is generally administered by the accounting or human resources department of a company, Small business payroll can be managed directly by the owner or a partner. Increasingly, payroll is outsourced to specialist companies that handle paycheck processing, benefits and insurance, and accounting tasks such as withholding tax. Payroll can also refer to the list of employees of a company and the amount of compensation owed to each of them. This is a large expense for most businesses and is almost always deductible, meaning the expense can be deducted from gross income, thereby reducing the taxable income of the business. HR software makes payroll processes easy to manage along with generating necessary reports.
6. Compliance
Compliance monitoring refers to the quality assurance tests that organizations perform to verify that their business operations meet regulatory obligations and internal processes. On an ongoing basis, the robustness of organizations' monitoring programs can be a central tenet of their compliance with the rules that govern them. One of the most complicated and potentially expensive areas of HRMS is compliance monitoring. Failure to comply with state, federal, and local employment laws can result in fines and lawsuits for employees. Compliance issues also include tracking required certifications and training for specific roles, missed breaks, labor standards, family / sick leave requirements, and union agreements.
Benefits of workforce management
Reduction and optimization of labor costs.
Reduce the risk of non-compliance in accordance with local, state and federal labor laws.
Increased employee productivity with reduced absences and delays.
Increase payroll efficiency by automating time-consuming and often complex processes and tasks.
Automation, instant accessibility and easy reporting for workforce data to improve HR productivity and reduce administrative costs.
Increased operational agility so that as production schedules and market demands change, businesses can easily assign people with the right skills at the right time.
Employers have a better view of worker engagement, attendance and productivity, which allows HR to adjust training, coaching and processes to achieve peak performance.
Conclusion
Companies use a mobile or desktop program that helps with staff scheduling, either as part of an integrated HR management software or as a stand-alone program.HR applications and core HR systems that serve as central repositories for workforce data. Best HR software also offers self-service options that enable employees to request days off or to check paid time off balances without having to ask the HR department, resulting in reduced paperwork and enabling HR to focus on strategic activities. Humanware HRMS software is one of the best HR software. It is a complete end to end HR software.Grow your workforce with Humanware HR software